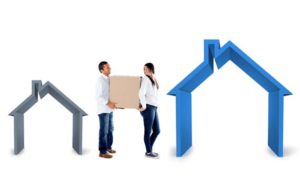 Upsizing your home can come with many benefits.  Increased space to sprawl out provides a relaxing, spacious living environment with increased privacy.  Rooms that were once multipurpose can now be designated for singular, specific use.  A playroom, a man cave, and even a guest room can exist without sharing space.  The dream of a garage, even an upgraded three-door one – creating a more secure space to park the car can be obtained.  Garage areas can even be redesigned to include more storage space for larger items like bikes and scooters.   Have you dreamt of having an artist's studio or a woodworking space?
Large gatherings are always harder in small spaces.  Get-togethers sometimes only happen once or twice a year with today's hectic schedules.  When they do happen, do you have the space needed for a large group to cook together?  Can you accommodate your guests comfortably?
Moving up to a larger home can be an important step not just for your family but also for your finances.  Do your homework and make sure you're ready for the challenge.  Working with an experienced real estate agent can help with pricing and selling your current home as well as assisting you in the search for your next home.
When upsizing your home, ask yourself these six questions to help you find the perfect property in no time:
How much room do you need now? Do you have pets who need a large yard? Hobby equipment that is currently stored in multiple closets? Expecting an increase in the number of members of the household?
How much room will you need in the future? Will you add cats, dogs, or other pets to the household? Do you work from home?
How much can you afford? A lender can help you determine what you can afford, given your expenses and debts.
How much time, money and resources do you have for maintaining and caring for the property? Keep in mind a larger home also means more upkeep. There's a larger lawn to mow, more floors to mop, and more repairs to be made (and more often.) How much can you afford to devote to this maintenance?
Where do you want to be in the long term? Are you near retirement? Do you have family members you would like to live closer to?  Will more or fewer people be living with you in the next 5-10 years?  What commute distance, traffic, and community features will be important to you?
This is a big one. What features in your current home no longer meet your needs? Take stock and really think about why you're moving and why you want to upsize. Are the bedrooms too cramped? Is the family room just too small? Are there enough bathrooms or places to play?
Use these answers to fuel your new home search, and make sure it exactly fits your wants—and needs.